Foodies: Seven West Coast Foodie Vignettes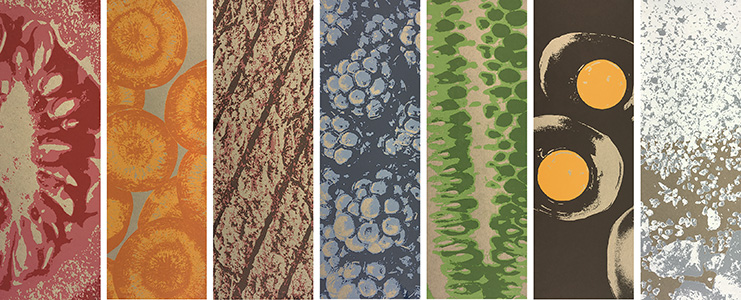 Artists: Kent Manske & Nanette Wylde

Portfolio of seven letterpress printed folios, each with wood type printed cover, two color interior screen print illustration, and original story which explores the diversity of meaning in food related language. The foodie vignettes are: Can, Chop, Grill, Jam, Pickle, Poach, and Salt. Foodies is housed in a letterpress printed portfolio.
Stories: Nanette Wylde
Illustrations: Kent Manske
Letterpress Printing: Kent Manske with Alan Hillesheim
Screen Printing: Kent Manske
Portfolio Design & Construction: Kent Manske with Don Drake
Fonts: Windsor, Myriad, American Typewriter
Paper: French Paper Company, Speckletone Kraft
Dimensions: Individual folios open: 12 x 18″ (31 x 46 cm). Individual folios closed: 6 x 18″ (15 x 46 cm)
Edition Size: 57
Price: $685