Swirl: June 17, 2015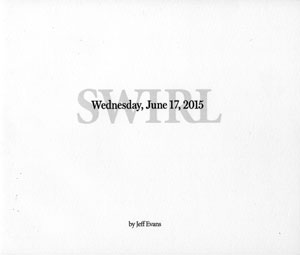 Photos and Text by: Jeff Evans

Description: SWIRL is a response to the June 17, 2015 mass shooting at Emanuel African Methodist Episcopal Church in downtown Charleston. The book is a creative reflection juxtaposing photographs, texts, local newspapers; and acts as a memorial for both the victims and Charleston community.
Jeff Evans is a writer and photographer making his home in Isle of Palms, South Carolina, an island community across the water from Charleston.
Specifications:
40 pages. Full color. Paperback.
Year: 2015
Price: $10
ISBN: 978-1-936083-09-1, 1-936083-09-4